In "our house of dreams" (re: Anne Shirley to Gilbert Blythe in
Anne of Windy Poplars
) we have some sort of outdoor space for Z to do manly things. His tools are currently stuck in the hallway closet, which is not conducive to most manly activities.
This outdoor space might be a shed. It might be a garage. We won't know until we find "our house of dreams." One thing I do know: I've got a Honey-Do list a mile long just waiting for Z when we find it!! The following is a list of things Z is going to make for me...he just doesn't know it yet.
This one assumes that our dream home also includes some outdoor entertaining space. But is this not genius? A wall mounted cabinet/shelf thing that you can fold down when you are using it and fold up when you are not! Genius, I tell you! This is for sale here but it's totally a DIY.
Serena at The Farm Chicks included this lovely idea in her kitchen remodel. It's a cutting board with a hole over the trash can! No more walking all the way across the kitchen with a balancing act of kitchen scraps, only to have half of the scraps go over the sides when you get to the trash can anyway. You may call this idea lazy. I call it genius.
This idea for storing cutting boards and cooking sheets uses tension rods and comes from Martha Stewart's design blog. Now if it just uses tension rods, why do I need Z to make it for me? Good question, glad you asked. In our town house, I don't have a pantry as shown in the picture. I really can't complain about the storage I do have in the kitchen...it's a lot given that we are in a rental. But I tried this idea and, unfortunately, over every cabinet is a drawer. Which means there is nothing for the top of the tension rod to "tense" against. So my idea is a free standing doo-dad with the rods secured in some sort of a base. Z!!! I NEED YOU!!!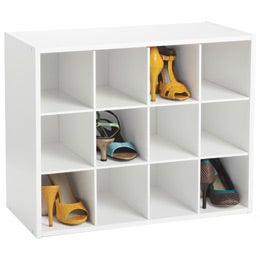 This last one may need to happen sooner rather than later. Our shoe "corner" by the door is a hot mess. This beauty is from The Container Store and I've seen other ones like it in other stores. But I have a hard time paying $30 or $40 for this when it's so obviously an easy DIY.
*Sigh...* those are just a few things on Z's honey-do list. Guess I'll keep dreaming for now.